Warning
: Use of undefined constant type - assumed 'type' (this will throw an Error in a future version of PHP) in
/home/devftnd/public_html/wp-content/themes/salient-child/ftnd-shortcodes.php
on line
291
Warning
: Use of undefined constant type - assumed 'type' (this will throw an Error in a future version of PHP) in
/home/devftnd/public_html/wp-content/themes/salient-child/ftnd-shortcodes.php
on line
292
Warning
: Use of undefined constant type - assumed 'type' (this will throw an Error in a future version of PHP) in
/home/devftnd/public_html/wp-content/themes/salient-child/ftnd-shortcodes.php
on line
295
Warning
: Use of undefined constant type - assumed 'type' (this will throw an Error in a future version of PHP) in
/home/devftnd/public_html/wp-content/themes/salient-child/ftnd-shortcodes.php
on line
298
Let's say for a moment that porn addiction isn't a real thing. (Just to be clear: according to research, it totally is. Check out this article and these neuroscience studies showcasing some of the science behind it.)
But let's play pretend for a moment in a world where porn is not addictive and has no addictive potential. Would there still be an issue with consuming it? Is pornography's harm limited only by its addiction potential?
Unfortunately, if this were the case, pornography would be as lowkey of an issue as over-consumption of junk food or social media. Though they may not always be the healthiest, they can be a part of your life in small or healthy doses and not have a devastating effect.
Related: Gabe's Story: How One Man's Struggle Helped to Destigmatize Porn Addiction (VIDEO)
Instead, what science and research find is that pornography does not appear to be something that can be apart of your life in a small or healthy way without having negative effects.
So what is it that sets pornography apart from social media or junk food?
Let's take a look at three reasons why even if pornography wasn't addictive, it can still be harmful to individuals and our society.

1. Porn normalizes and capitalizes off of atrocities such as racism, misogyny, and violence.
Some of the most popular porn categories revolve around sexual assault (rape porn, teen porn) and incest (stepmom and mom porn). Don't believe us? Take a look at these popular porn categories on the world's largest free porn site.
In real life, sexual violence and incest are not only seen as unacceptable, but are straight-up illegal. So why is it acceptable to romanticize these things?
Consider this scenario: if you fantasized about being openly racist and violent against someone specifically because of their race, would that be a healthy or acceptable simply because you weren't doing it in real life?
Related: Why Does Porn Get A Free Pass To Capitalize Off Of These Unacceptable Categories?
Of course, thinking about something and doing something are very different, but thoughts and beliefs influence attitudes, and attitudes influence actions. This doesn't mean anyone who fantasizes about rape or violence will absolutely commit those crimes, while it is to say that filling your mind with content that fantasizes acts of violence and incest can normalize those kinds of attitudes and behavior.
Similarly, porn fetishizes sex with non-white racial and ethnic groups and adds to a stigma of interracial relationships as being "taboo" or abnormal. "Interracial" categories in pornography play off of degrading images of different races, openly basing titles and content off of offensive stereotypes and using slurs in the films.
In any other situation, the content and category of these films would be shut down immediately, so why give porn a free pass simply in the name of fantasy?
Related: How The Porn Industry Thrives On Promoting Racism
Lastly, the inherent misogyny present in pornography cannot be ignored. Women are often the target of both verbal and physical violence—considering nearly 90% of popular porn scenes contained physical violence, and almost 50% contained verbal aggression [1]—as well as subjected to demeaning stereotypes.
In mainstream porn, women are often displayed as weak and powerless, happy to do anything for the pleasure of the man—or men—involved in the film. Again, we ask, if we as a society want equality for men and women, how can we give a pass to blatant misogyny glorified in pornography?

2. Porn is inherently linked to human trafficking.
Sex trafficking, though it only makes up 22% of human trafficking, generates 66% of global trafficking profits. [2] It may be tough to hear, but research and personal accounts from trafficking survivors show how porn increases the demand for sex trafficking in different ways. Whether it's because porn can inspire consumers to turn to trafficked individuals being sold for sex to reenact what they've seen, or because traffickers show victims pornography to essentially "train" them for their future "career."
But not only this, pornography fuels sex trafficking because they are often the same thing.
Almost half of those who were sold for sex report that their abuse was filmed while they were being held captive. [3] Oftentimes, these films are uploaded onto porn sites, and there is often no way to tell the difference between what is real abuse and what is performed abuse. For instance, one sex trafficking survivor was forced to perform in a porn video that was listed by the Sinclair Intimacy Institute as a "sex-positive production." [4]
Sadly, instances of porn being found to be legitimate cases of abuse and bondage have occurred more than once, [5] and there are little ways to know the difference, even if it's coming from a "reputable" distributor.
This is just one of the many reasons why porn is toxic, even aside from its addictive potential.

3. Consuming porn supports the industry as a whole.
Maybe you've seen what porn is linked to and you decide to avoid abusive and misogynistic pornography, and only porn that comes from professional studios. Maybe you do your best to cross your t's and dot your i's, to be an ethical porn consumer.
Though that might make you feel better, the more research is coming out about the industry, the more society is learning that there truly is no ethical way to consume pornography.
As seen before, it's not just amateur pornography that can be linked to trafficking, it can be well-known distributors and producers. Likewise, there is no actual way to know if a performer, no matter how famed, truly wants to be there and why they ended up there.
Related: Why Having Strong Human Connections Can Help Fight Porn Addiction
Even if every performer you see does, in fact, want to be there, and loves their job, pornography still sexualizes and objectifies people, gives unrealistic expectations for sex, and harms relationships, and lastly, can absolutely lead to a very real compulsion addiction.

Try our #NoPornovember challenge
November is here. Are you ready to take up the challenge?
Trying to filter the pornography you consume, though it's a step in the right direction, might prove to be a fruitless effort, especially since porn consumption is found to be an escalating behavior.
Instead of cutting back or trying to filter your consumption, stand with us against porn addiction and the many harms of pornography and ditch porn for good.
Need help?
For those reading this who feel they are struggling with pornography, you are not alone. Check out our friends at Fortify, a science-based recovery platform dedicated to helping you find lasting freedom from pornography. Fortify now offers a free experience for both teens and adults. Connect with others, learn about your compulsive behavior, and track your recovery journey. There is hope—sign up today.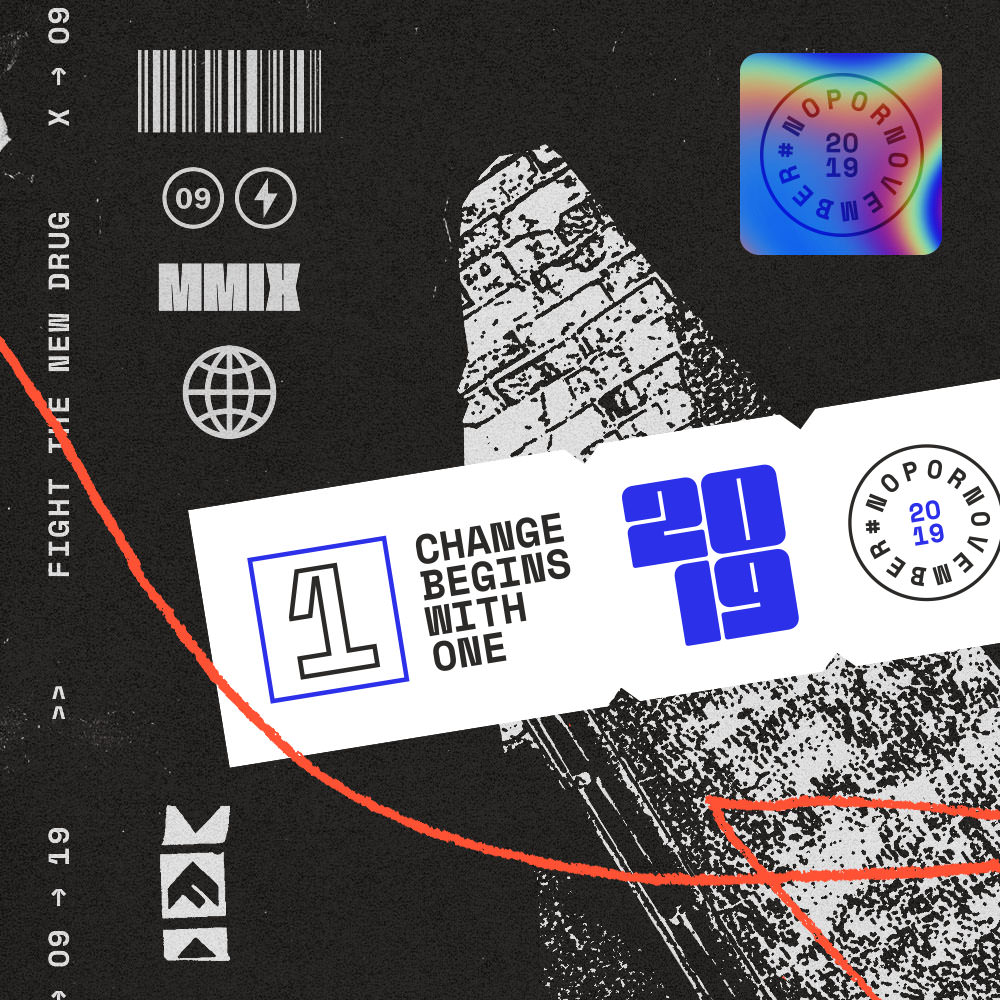 [1 ]Bridges, A. J., Wosnitzer, R., Scharrer, E., Sun, C., & Liberman, R. (2010). Aggression and sexual behavior in best-selling pornography videos: a content analysis update. Violence Against Women, 16(10), 1065-1085.
[3] Dr. Karen Countryman-Roswurm, LMSW, Ph.D. Interview || Truth About Porn [Video file]. (2016, December 28). Retrieved from https://vimeo.com/190317258
[4] Catharine A. MacKinnon, Are Women Human? (Cambridge, MA: Harvard University Press, 2007).
[5] U.S. Attorney's Office for the Western District of Missouri, "Victim Tortured as Slave, Forced into Sex Trafficking and Forced Labor," press release, March 30, 2011.; U.S. Department of Justice, "Two Men Sentenced to Multiple Life Sentences for Enticing Women to South Florida to Engage in Commercial Sex Acts and Distributing Date Rape Pills," press release, February 17, 2012.